Prof. Dr. phil
Kunst und ihre Didaktik
* 1965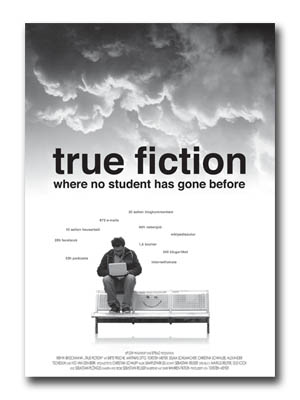 Lange war es ein Geheimprojekt im Rahmen ePUSH, nun ist es fertig und online: Der Film erzählt die fiktive Geschichte einer Studierenden mit Namen Laura. Sie ist 23 jahre alt, lebt und studiert in Hamburg. Laura lebt in einer Welt, in der Gleichzeitigkeit, Kontingenz, das Ineinandergreifen von Realität und Virtualität, ein Weltweitwerden der Kommunikation und ein zuvor nicht gekannter Zugang zu Informationen alltäglich sind. Für klassische Institutionen wie die Universität stellt das eine große Herausforderung dar …
coming soon to a university near you!
Trailer unter www.truefiction-derfilm.de
(Danke für Kommentare, Kritiken, Erwähnungen!! joeran.de, textundblog.de, twitter.com/#search?q=truefiction …)
2 Kommentare »
RSS-Feed für Kommentare zu diesem Artikel. TrackBack URI
Auch wenn der Untertitel etwas bemüht plakativ wirkt: super Projekt! Im Grunde werden genau die Kollisionspunkte zwischen Uni und Studentenleben angesprochen, die ich auch in meinem universitären Alltag erlebe. Bin sehr gespannt auf den fertigen Film und hab bei der Gelegenheit gleich mal alle kommunikativen Distributionskanäle angeworfen, um die Info zu verbreiten.

PS.: Danke für das Wort des Tages: "Weltweitwerden"

Danke für den Dank für das Wort des Tages. Den muss ich aber gleich weiterleiten an Jacques Derrida. "Weltweit-Werden" ist die deutsche Übersetzung des frz. "mondialisation" in seinem Vortrag "Die unbedingte Universität". Im Original:

"Die Erneuerung und Neufassung der Erklärung der "Menschenrechte" (1948) und die Einführung des Rechtsbegriffs "Verbrechen gegen die Menschlichkeit" (1945) stecken heute den Horizont der mondialisation und des Völkerrechts ab, das über sie zu wachen berufen sein soll (Ich behalte das französische Wort für "globalization" oder "Globalisierung" bei, um den Bezug auf eine "Welt" [monde, world, mundus] auf- rechtzuerhalten, die weder der Kosmos, noch der Globus, noch das Universum ist). Eine solche mondialisation, ein solches Weltweit- Werden, wird, wie wir wissen, vom Raster der Begriffe des Menschen, des dem Menschen Eigenen, des Menschenrechts, des Verbrechens gegen die Menschlichkeit geregelt.
Dieses Weltweit-Werden will sich also als Humanisierung verstanden wissen."
(Derrida, Jacques: Die unbedingte Universität, Frankfurt/M: Suhrkamp 2001, S. 11)
Einen Kommentar hinterlassen
www.medialogy.de, Torsten Meyer, Impressum
Powered by WordPress with my own theme based on Hiperminimalist Theme design by Borja Fernandez.
Entries and comments feeds. Valid XHTML and CSS.